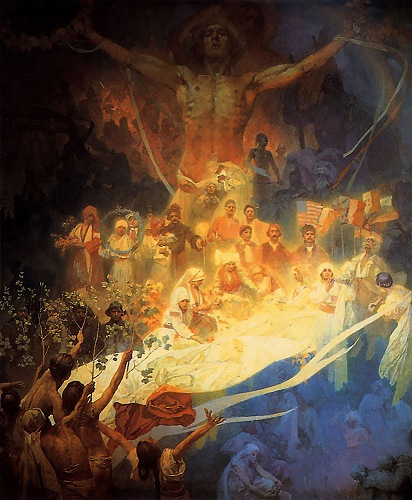 More pictures:
More info:
The whole collection of 20 paintings is located in Moravský Krumlov.
Open daily except monday:
April – October
9am-12am 1pm-4pm
Contact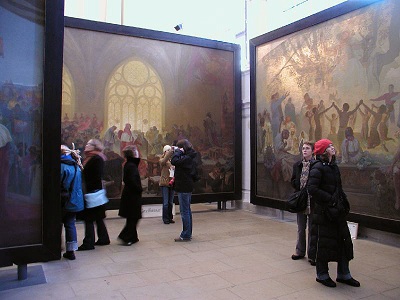 John Price 2005-10-12 / 5.31 pm

I am building a web site deal with the Slav Epic – it is
http://www.slav-epic.org.uk
A link would be appreciated.
Regards
John Price

Robin 2005-11-10 / 9.39 am

Han gör ju bara tavlor!!!!! Jävla fjolla!!

Jan Pieter Foppen 2007-02-07 / 4.16 pm

Toll!!!
Schun!!!
Super Toll, broeke voll!!!

celine 2007-03-21 / 6.20 pm

its so intresting,
i com from the netherlands,for my school i mast to tel abaut Alphonse Maria Mucha.
i like his art.
i have a book of him.
its cool.
greetz from celine

Blanka 2007-08-31 / 4.13 pm

Krasny design stranek, pisi o Muchovi praci a tak jsem zkoukla kde co…

jen tady mate chybu:
Obraz působí řekl bych agresivně: bez ohledu vniká otevřeným oknem do duše.
Mucha ve sve epopeji pise o oku ne o oknu.
Blanka

malyfred 2007-09-02 / 12.05 pm

dekuji, opraveno.

Neo 2007-09-28 / 5.45 pm

We are Chinese oil paintings company,we can reproduce all kinds of oil paintings,please browse our website under: http://www.sinokpm.com

Emilia 2007-10-26 / 7.27 am

What I would give to be with you. In this picture. Soaking in all color.

Pavla 2007-11-04 / 2.49 pm

Jenom bych Vam chtela opravit informaci ohledne vstupu do zamku: na jare tohoto roku byla zbourana vratnice a porizena nova brana.
Jestli zde chcete mit fotku noveho vstupu, rada Vam ji poslu.

malyfred 2007-11-04 / 11.27 pm

@Pavla No hura! Fotku urcite poslete (e-mail je dole). dekuji

lil wifey xxx 2008-01-17 / 12.05 pm

this is crap mate sort out the pictures
xxx den holla back at me!

magda 2008-10-15 / 9.22 pm

do you have a video documentry of this? Can you e-mail it to me or give me a link to a website that I can find the full documentry about the The Slav Epic painting of Mucha!

Cheers!

Magda

gaetano 2010-02-20 / 8.44 pm

complimenti per le tue opere;
ma sono realizzate solo con tessere in vetro ?
essendo un piastrellista con molta pazienza volevo tentare di creare un disegno con tessere ma non so nemmeno come iniziare,e credo che queste opere le devi vedere da vicino come si realizzano altrimenti non fai altro che fare guai ti ringrazio e spero di avere una risposta qualsiasi sia ciao gaetano

Mandi 2010-02-28 / 1.07 pm

Dear Malyfred, first of all compliments on your page. Well, I'm writing a final paper at my college about The Slav Epic and its importance for the czech culture. I have found some books on the subject, however I would appreciate if you could help me (or anyone else who reads this)and recommend some materials to read. Materials can be in Czech. I'm even willing to come to Prague and buy the boks myself if they are not available for online purchase. Thank you very much:) My email is mandi1233@yahoo.com

Kvetoslava Adamová 2010-03-03 / 3.59 pm

v časti " otevřeno " vám chýba rok . Sú tam len mesiace , dni a hodiny . Radi by sme sa prišli pozrieť , ale dočítali sme sa veľa rozporuplných informácii , od tej, že Mucha pôjde do Prahy, až po tú , že si ho chcú na 2roky vypožičaľ Japonci . Uvidíme ho ešte u vás 1. alebo 8. 5. 2010 ?

Katarína Vajdová 2010-07-19 / 7.39 pm

O tomto úchvatnom diele môjho obľúbenca som sa dozvedela z vedomostnej súťaže AZ kvíz. Jeho Štyri ročné obdobia som si dala namaľovať olejom. Mám dokonca i niečo ako pokus o môj secesný portrét – tiež olej- v štýle Muchu. Všetko mi vyhotovil môj bývalý kolega výtvarník. Som veľkou obdivovateľkou tohto maliara. Bolo by možné poprosiť o nejaké reprodukcie ?
Mgr.Katarína Vajdová
v, r.
Sorry, the comment form is closed at this time.