Tak je to tady. Dva týpci přišli v 7.56, jenom jeden z nich mluví anglicky, ale oba umějí odmontovávat vany:o( Už ji nemám:
Pokračování na sebe jistě nedá dlouho čekat – teď to jdu zkusit zaspat. Je moc brzo ráno
Nově: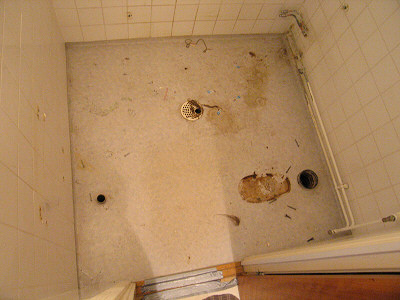 V poledne

Večer
Comments
cnainee 2005-03-24 / 10.45 am

Aspon ze ti tam nechali zachod :O)

malyfred 2005-03-24 / 7.49 pm

Ale ruce abych si bezel umejt do vedlejsiho baraku… Zitra jdu na Studentstaden a budu tam strasne sproste, cesky, rvat neco o idotech a mych trech tisicich svedu mesicne.
Sorry, the comment form is closed at this time.