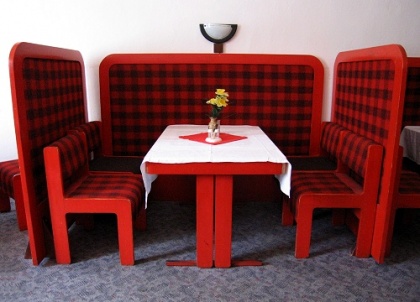 Račte si řát?
Comments
mirun 2005-09-05 / 1.12 pm

Dám si pivo a lehký Davidoffky.

malyfred 2005-09-05 / 2.49 pm

10°? 12°? A pro toho spratka co máte sebou nic?

mirun 2005-09-05 / 8.47 pm

10°. Spratka s sebou nemám, jedině, že by se za mnou nějakej plížil :), pak ale ať si objedná sám na svůj lístek!

malyfred 2005-09-05 / 9.18 pm

Aha, promiňte, asi jsem se přehlédl. Takže desítečku… Davidoffčičky…

A ten pán vedle vás si dá taky pivečko?

mirun 2005-09-06 / 8.55 pm

To vedle mně je pán? Sakra, zrovna jsem "jí" chtěl začít valit klíny do hlavy… díky za upozornění. Dám si ještě asi osm až deset desítek a zkusím to pak "překousnout" :)

malyfred 2005-09-06 / 11.15 pm

Mně se tady ožírat nebudete! Toto JE tichý a klidný podnik. A vůbec – už vám bylo osmnáct?

Proč ten "pán" co tu s vámi seděl šel na dámské záchody?

minidrak 2005-12-10 / 1.54 pm

Protože jsem mu řekl, že balit ženské je nejlepší, když to nejméně čekají.
Sorry, the comment form is closed at this time.