Líbí se mi snaha Českého rozhlasu nabízet ve svém audio archivu záznamy všech pořadů, u kterých mu to autorská práva dovolí. Archiv je však bohužel poněkud nepřehledný a i když už se v něm objevují snahy o podcasting, k dokonalosti to má daleko. Zatím totiž ve formě podcastu nemůžete sledovat jednotlivé pořady, ale musíte si vybrat z tématických okruhů: Publicistika nebo Věda a technika, resp. máte možnost sledovat vysílání celé stanice.
Nevadí, jednou su Čech a tak si to udělám sám. A že jsem v jádru dobrý člověk, tak se s vámi o tu radost i podělím.
Jak na to?
V archivu si najdete svůj oblíbený pořad. Řekněme, že se vám líbí "Meteor", tak jako se líbil mně, když jsem ho každou sobotu jako malé děcko poslouchal u snídaně.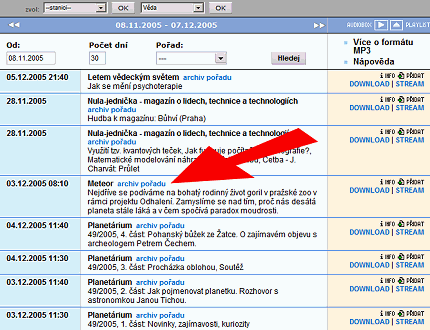 U vybraného pořadu si kliknete na "archiv pořadu", čímž se dostanete na stránku se seznamem všech nahrávek seřazených podle data, což je přesně to, co chceme ve formě podcastu.
V adresním řádku si přečtete hodnotu parametru p_po, v našem případě je to 15.
Posledním krokem je přidání podcastu do čtečky ve tvaru:
http://fredfred.net/rss/rss.php?n=ceskyrozhlas&p_po=xxx
kde xxx nahradíte konkrétním číslem. Pro Meteor by to bylo tedy výše zmíněných 15.
viz http://fredfred.net/rss/rss.php?n=ceskyrozhlas&p_po=15
Škoda, že něco takového nelze udělat s archivem České televize.