Stick Boy and Match Girl in Love
Stick Boy liked Match Girl,
He liked her a lot.
He liked her cute figure,
he thought she was hot.
But could a flame ever burn
for a match and a stick?
It did quite literally;
he burned up quick.
---
The Boy with Nails in his Eyes
The Boy with Nails in his Eyes
put up his aluminium tree.
It looked pretty strange
because he couldn't really see.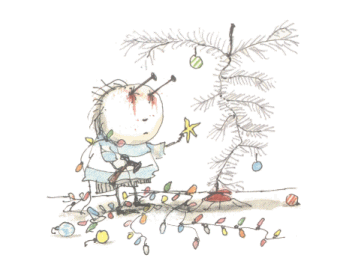 Thanks to: http://homepage.tinet.ie/~sebulbac/burton/home.html
And don't forget to buy this book! (Where to buy?)
---
Malá poznámka pro Čechy. Hodně mi to připomíná minisbírčičku minipovídek, kterou napsal kdysi Mardoša a jejíž výtisk doma nemohu najít a na jméno si vzpomenout. Dobře si však pamatuji příběh chapce z polystyrenu, který sám sebe rád drolil, a přestože mu maminka říkala: "nedrol se", drolil se stále. Drolil se tak dlouho, až se úplně rozdrolil…
Kdybyste si někdo vzpomněl, jak sa ta knížečka jmenovala, byl bych vděčný.