I wouldn't say that Paris is a boring town, I just think that it is terribly overrated. When I arrived there the first time, it seemed to be a lazy town where tourists (and mainly French tourists:) were crawling around churches and parisians are getting drunk in parks. That was three years ago and it was not a very exciting experience at all.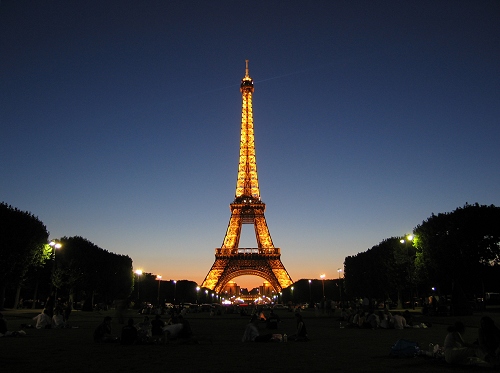 A couple of weeks ago my friend and I decided to visit France again. The decision was made in a hurry and 40 hours after finishing our last exam of the year we left the Czech Republic.
We had decided to spend the first three days of our trip in Paris. Bringing our bicycles turned out to be a very good idea. Paris is as flat as can be imagined so even the 20km between our camp and the Eiffel tower was comfortably done in less that one hour.
Due to the horrible temperature, any kind of activity had to wait until late afternoon or night. It is actually much better to visit this city in spring or autumn to avoid the warmest part of the year. We managed by leaving our camp site everyday at around 5 p.m.
Well, if you are waiting for some breathtaking story… I'm sorry but there isn't one (unless you count the one about the pissed off Louvre security officer at 2:30 in the morning one night :). All in all, we spent three days there, cycling, relaxing in parks, eating crêpes and that's it :)
Comments
Gnorb 2005-07-31 / 7.03 pm

I'll make sure my wife reads this one. ;-) She's gone to Europe and loved it, but didn't go to France. Maybe I can convince her to go to Tokyo or Beijing, instead…

malyfred 2005-07-31 / 10.03 pm

Has she been to Prague? If so, don't hesitate to go to Asia. Otherwise Prague is waiting for you:)

Gnorb 2005-08-01 / 2.00 pm

No, I don't think she's been to Prague yet. I know I haven't ;-). And I'm sure she wouldn't mind going back to Europe.

Sensei 2005-10-06 / 5.57 pm

Prague is beautiful. Paris is great too in different ways, but the vibe is not anywhere as cool as Prague is.

Pâris 2006-08-14 / 11.15 am

Hi! I found your blog when looking for a good reason to leave Paris, because I have to, as I will settle in London in June 2007, to learn English. However, your comments triggered an unexpected need to defend this town. Did you know "Pâris" was a beautiful Roman boy? Surprising, for such a feminine place. Guys, I was born in the Caribbean and have been living in Paris for 18 years. How come so from such a wonderful part of the world eventually stayed for 20 years in France 2 years in Tours)!
In fact, Pâris is not overrated at all, and I my boss' wife-an American woman- cried when leaving Paris for Prague. Was she leavind Paris or Pâris? I think she missed Paris, the town! This feeling overwhelmed me when I left Paris for the second time in 1989, to fly to Brazil. Back from that trip, I felt like in a cocoon, everything sounded, like magic, the hated commercials on tv were like maiden caressing my ears, even the stinking subway had a renewed charm, people were like family, I was HOME! Why? Because if you give up when your attemps to bound with Parisians prove unsucessful, you miss the point. Sometimes I think it's a good think to keep the beauties and magic of the town secret, because they are to be deserved-Bicycle rides, parks, eating pancakes are part of the city's charm. But that is far away from what Paris is. You can do se same and in a far more pleasant way in Amsterdam. Don't have time to develop now, but I can assure you that the town's most precious gem is : it's people. Show off and stupid Parisians are mostly snobish people coming from country towns thinking that king of attitude is the Paris style. They are arrogant and boast about their tiny achievements, throw their "culture" at your face as if their's was the best. No, don't limit yourself to the BOBO terrasses, go into the most "populaire" districts of town: the onzième arrondissement (11th district), 10e, 2e … In the 11th district ("le Onzième", as we say, here), the soul of Edith Piaf might well be still alive in a little boy or girls'attitude, in the accent of the elderly, in the simple smell of hot coffee and tobaco taken in a terrass at 7:00 a.m. You need a poet's soul to savour the gist of this place of he world. I made real friends here, which is not so esay in the States. Here, money-however thinks have pretty changed-, money comes second. Heart, first. Bye, need to go, if you have questions, it will be my pleasure to answer. A bientôt les amis, en espérant vous revoir à Paris!
Pâris

Jessica Dominguez 2008-01-09 / 5.00 pm

That is the most beautful picture I have ever Seen.
I love it.

caw 2008-05-11 / 3.09 pm

kje wolle?!
Sorry, the comment form is closed at this time.