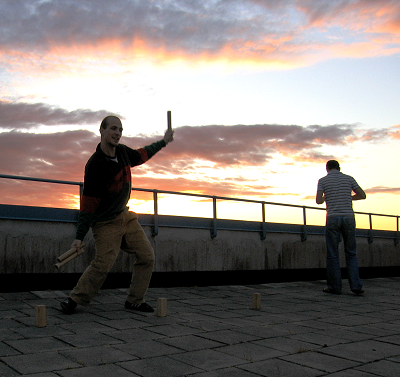 It's a tradition! You have to do that even when you are in the middle of the kubb game:) So remember – every day at 10 p.m., ok?
Some other stuff about Flogsta: Wikipedia about Flogsta
Comments
miira 2005-07-02 / 1.03 pm

Možná jsem mimo, ale ono "skriker" něco znamená? Já si doteď myslel, že je to pouze nick :]

malyfred 2005-07-02 / 1.29 pm

Znamena. Hledej smudlo!:)

miira 2005-07-02 / 4.17 pm

Tak šmudla hledal a prý to znamená něco jako křik, nebo křičet :] Trefil jsem se? ;]

malyfred 2005-07-02 / 7.09 pm

Smudla se sice furt divne tlemi :], ale jinak je sikovny.

miira 2005-07-03 / 11.04 pm

Smudla ma hranatou hubu :]]

xom 2006-10-24 / 8.34 pm

Ahoj, co to hrajete na horní fotce za hru? Mám pocit, že jsem něco podobného letos sledoval v Oslo – klacíky schazuješ dřeva a tím je odebíráš soupeři (hodně zjednodušeně) – pravidla jsem odkoukal, akorát jsem se nezeptal na název..

Za případnou odpověd předem děkuju

malyfred 2006-10-27 / 10.04 am

Je to tradiční švédská hra Kubb (více viz wiki http://en.wikipedia.org/wiki/Kubb).

V Čechách se to bohužel moc koupit nedá, na druhou stranu se to dá snadno vyrobit;)

xom 2006-10-27 / 9.52 pm

Ano! Je to ono, moc děkuji za název, teď to mohu začít v Čechách shánět podle jména a ne jenom dle mého chaotického popisu.. ;o)

melanie 2007-05-21 / 11.58 am

GREAT!!!! I cannot believe someone actually recorded the flogsta scream!!! It brings great memories of a year in Uppsala!!
Sorry, the comment form is closed at this time.