It's not easy to see the difference between two displays when you are comparing different sizes and resolutions. Screen Size Comparer is the easy-to-use tool that helps you to discover their hidden secrets.
Please notice that you can set the information about your own display and you'll get the rectangles representing displays in the real real size – try the ruler!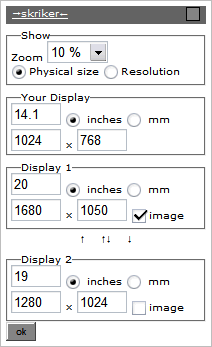 Comment
Mikes 2006-02-04 / 3.11 pm

Velmi uzitecna utilita. Nejsem si vsak jist, jestli museji byt pixely pouze ctvercove. Pak by rozmery uplne presne neodpovidaly.
Sorry, the comment form is closed at this time.